Suspension starting point!
Yes it is greasy and nasty but it is a V8 steering so it will work well with the engine change coming!

The upper and lower control arms were replaced with '65 Mustang parts from Canadian Mustang. The upper control arms were moved ala Shelby!

The springs were replaced with 620 rate lowering springs. Unfortunately it didn't lower it due to the lighter Falcon. Gotta cut a 1/2 coil still to get the stance I want! I ended up putting in '65 Mustang standard #420 rate springs which gave it just the right ride height.

The brakes were replaced with discs off of a '79 Ford Granada.

Out with the dinky sway bar and in with the 1" sway bar.
Engine Compartment Fix-up
Well with the engine change the shock tower supports had to go! Here is the engine compartment sans engine. Perfect time to clean and paint!

The master cylinder and upper shock supports days are numbered!

You can't see it but to open up the cooling for the Mustang radiator I opened up the area for air to pass through the radiator.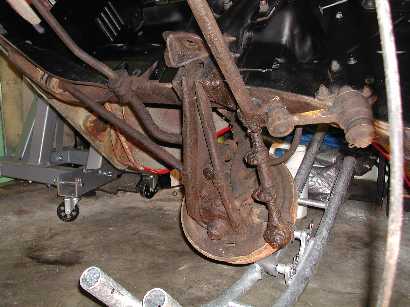 Man was I a mess after tearing into this.